the news
2005-11-04.Ja! Es ist wahr, Unstern Bedroht ist, in dieser jetzigen Form als Band, Geschichte! Noch 2 Konzerte in Bonn (Bla/14.11.2005 mit Dont mess with texas) und in Köln (im Kunstwerk/PurerLuxus-Konzertreihe 19.11.2005 mit Fuck u is my name und A.m. yeto - Eintritt Frei) und das war es erstmal. Trotzdem wird Unstern Bedroht weiter existieren, nicht als Band aber wer mag schaut mal ab und an auf dieser Seite vorbei, um sich auf den laufenden zu halten was in anderer Form noch so zu erwarten ist! Danke an alle die uns irgendwie unterstützt haben!Ohne euch hätte es niemals Unstern Bedroht gegeben!!!We are not going to miss u, because we will see each other again, soon.
Yes. It`s true, Unstern Bedroht, in this existing form as a band, has passed away! There are 2 concerts to come, in Bonn (Bla/14.11.2005 with Dont mess with texas) and in Cologne (in the Kunstwerk/with Fuck U is my name/am Yeto). But Unstern Bedroht will stay by your side in an other form. If you want to, you can have a look at this site, and check out whats going on in the future. Thanx to everybody who supported us anyhow!Without you it would have never given Unstern Bedroht.We are not going to miss u, because we will see each other again, soon.
be our myspace-friend: click here!!!!! the last concert(hope.to.c.u.there)->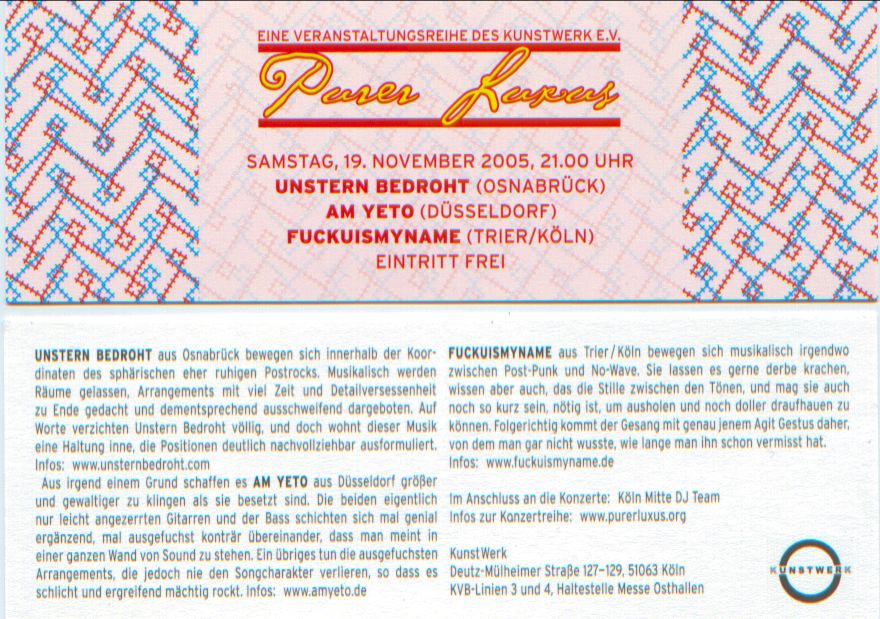 There are still a few copies left from our new cd called "3 and a half" - u can order it for a few bucks at retinascan-click here, or directly from us in bremen/osnabrück. also available at the trash chic in köln.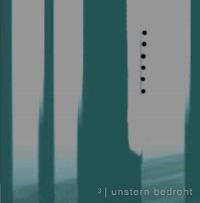 2005-09-09
hi there! the first concert since may is now fixed in the former capitol-city bonn! In november, the 14th we are going to play with "dont mess with texas"from croatia/zagreb in the bla! hope to see you there!
plus an special annoucenment by thee mighty king kerosene: "dudes, our new cd which is finally entitled 3and a half-is out now! and it´s available for 7 euros postpaid in germany through michael aka thee mighty king keroseneor at retinascan... u can find 5 new songs + 4 songs from our fields 10" first time on cd...and...by the way: mighty kerosene is working on a new full lenghth cd, all other cd´s or mp´3s are available at the retinascan empire,too...have a look...and a listen...
2005-07-27
we went to myspace.com; there you`ll find 2 new songs from us and a few photos from our last european tour.it would be nice if you add us as your friend. cu soon.click here for unstern at myspace!

2005-07-15
unstern bedroht isnt fucking dead::::: well its been a while that something happenend, BUT unstern finished a couple of some great new stuff, let me see - it must be about 8new songs if im right! i havent managed to put some screenshots from our european-tour online,...shame on me. but we`ll do. sometime. slowly moving on. boris is nearly finished with his bird-project from the university of osnabrück somewhere in the middle of nowhere, themightykingkerosene is also busy with finishing new songs he`ll release soon (incl. a split project with sankt otten!) and i dont know what the hell markus is doing right now, but you can count on, unstern will move on and be back soon with their new stuff on stage. so keep an eye on that homepage, and if you find some time visit the international karate punks
at their virtual home.
2005-04-23
short news: in addition to the concert in giessen w/ lampshade (5th may!) we are happy to be able to play with "the album leaf" in muenster!!!(8th may - gleis22) click here for infos and tickets! also we were in the studio to record five brandnew songs! we dont know yet when and in which way we are going to release those songs, but we will keep you updated.
2005-03-16
well, we`re back from our third tour through italy,austia,switzerland,france and germany. gosh, it was unbelievable and we would like to thank entirely all those who made that possible. special cheers to lollo and pescho and their crew who made it happnend that we could play graz,vienna,innsbruck and bruneck. we hope that you know that you rule, at least we know! thanx also for having a great time to: janette&clemens and crew in berlin, ralph&friends in dresden (our touring hometown! thanx for beeing such a good friend and for the enthusiasm of all you dresden visitors!), chris in saarlouis, pierre in strasbourg(and all you crazy button-nerds), simone in mülheim(once again, you rule), anita from graz, the guy from the other side of the manner-fabric in vienna - (alexander egger/satellites mistaken for stars und claudia) and also pippo and sense of akasha for letting us sleep on their floors next to the railroad tracks, the guy form the ekothek schondorf- (dont take me so seriously.) marceaves from the az in aachen. sylvie for the posters. and last but not least yves from the gaswerk in wintherthur. hell no! and we didnt forget the helldriver-princess andrea. thanx for putting some light into a stinky van.
next show will be in may. 5th in giessen - muk w/lampshade & waiting for steve.click here for infos
the webslave.